If you are one of those students who had to graduate high school in the middle of a pandemic, my heart goes out for you.
Most of you did not even get a decent farewell or a scribble day or even a proper last day of school to tell your friends goodbye and not to mention the time lost that could have been spent with friends.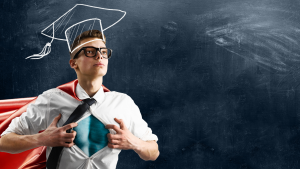 9 Things You Can Do Right After Graduating From School
However, life goes on and the only thing that you can do now is hope for the best! At this point, students feel confused and anxious as they wait for acceptance letters from colleges they applied to and results for the entrance tests they took.
This is the perfect time to do something that can be meaningful and can kill time as well.
Here are 9 useful things you can do with your time right after graduating from school.
Internship
If you are looking for something that can help you steal a glance from the corporate world, this is your jam.
Internships are meant to provide students who have graduated school or are in college with a real-life experience of the corporate world.
You can actually intern based on the choice of industry you wish to build a career in. Internships can –
Provide you with relevant experience
Equip you with soft skills needed to work in the industry
Help you build a network
Be a source of pocket money (in case of paid internships)
Help you practice and perfect a skill
Make your CV look good
You can find plenty of internships on websites like Internshala, frapp, or letsintern.
Volunteering
If money isn't something you aren't interested in yet and you wish to make a difference in the world, volunteering might be best suited for you.
Volunteering is solely based on your will to give back to society. If you love helping around and making the world a better place, you can volunteer in NGOs, NPOs, and even the UN.
You can also sign up as a volunteer in your local animal shelters, old age homes, and orphanages. The world could surely use an extra pair of hands!
Becoming a volunteer, even though unpaid, can be fulfilling and is recommended as a good option after you graduate school.
Freelancing
Freelancing is somewhat like an internship except instead of working for an organization, you are working for yourself.
If you like to be your own boss and have a desire to make some extra cash, freelancing might be a good option for you. Unlike internships, freelancing has flexible timings and does not have fixed pay.
You get to set your own schedule, get your own clients, and fix your own price. You can work as a freelancer from the comfort of your own residence.
If you have a pre-existing skill, freelancing is the best way to make money out of it. The best part is, you can actually make a career as a freelancer full-time or part-time or alongside a job.
Build a Skill
It could be freelancing, internships, or even real-world jobs, if you do not have a pre-existing skill, you can learn a new skill right after graduating from school.
You can choose a skill based on how relevant it is to current market needs and reap the benefits as you practice.
You can try online courses or find some in-person classes. You can learn whatever you want without worrying without any anxiety about your grades.
Start a Blog
A lot of students start a blog once they get some free time after graduating from school. With almost the entire world surfing the net, you can write about anything and have a good reader base. Your blog can either be self-hosted or on other websites like Tumblr, medium, or Blogspot.
It does not require any technical skills like coding or programming thanks to Content Management Systems like WordPress.
In the case of a self-hosted blog, you can also monetize your blog after you gain a good amount of traffic on your website.
Start a YouTube Channel
If you like making or editing videos, you can also start your own YouTube channel. This way you can gain confidence about speaking on the camera and improve upon your video editing skills.
Starting a channel or a blog can seem like a daunting task at first but gets easier once you gain momentum.
Learn a language
If you are one of those who wanted to learn a foreign language but couldn't get the time or resources in school, this is the time for you. Learning a new language can be beneficial in many ways. A lot of students go for diploma courses in foreign languages after graduating from school.
You can either work as a translator, or a proofreader, and it can be very beneficial if you want to travel or settle abroad.
Become an influencer
Almost everyone is on social media these days. If you keep up with the latest trends and make engaging content for people, the influencer life is likely to choose you. This could be your chance to stand out from the crowd.
Having a strong social media presence can translate to better opportunities. Although underrated, social media is powerful nonetheless.
If you like spending hours on social media, you can easily use it as a platform to showcase your talent. Also, you can get offers for paid promotions as well, if you have enough engagement on social media. A lot of students who graduate from school opt for this option.
Tutor your juniors
Navigating through high school is as hard as it is. The past is in the past but you can surely help someone get a better present.
Once you graduate school, you will probably be 18 and an adult. Younger students will start seeing you differently and with respect in their eyes.
You can tutor children younger than you and brush up on your subject knowledge along the way. Also, you get paid if you want to.
If you liked this article, also read Different Ways to make good Money Online , to stay up to date with our latest posts, connect with us on Instagram